Let's End Street Homelessness
City streets aren't a substitute for shelter
What this is:
On March 22nd, Supervisor Mandelman introduced his "A Place for All" legislation, co-sponsored by Supervisors Matt Haney, Catherine Stefani, Myrna Melgar, and Gordon Mar. It would:
Require that the city develop a plan within 3 months to build enough shelter to accommodate all who need it. The plan could utilize a combination of safe sleeping sites, innovative tiny homes, navigation centers, and traditional shelter.
Require that the Board consider adopting the plan within 90 days of its completion.
For too long, the city has spent more and more money on homelessness without a concrete plan. The result has been a steady increase in both cost and the number of people forced to live on the streets.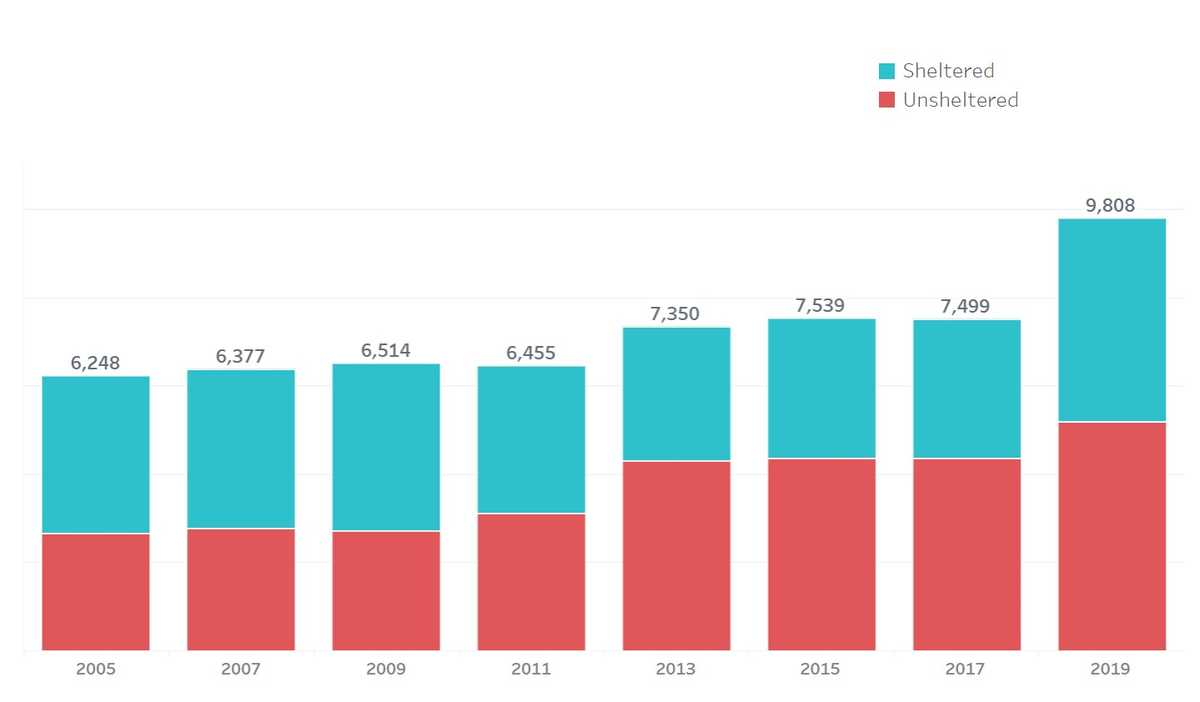 GrowSF believes we need to end the homelessness crisis by efficiently using our city's resources to shelter as many people as possible. Supervisor Mandelman's "A Place for All" would finally require the city to develop a plan to do that.
Read on to find out how you can help or click here to read our answers to objections.
Things you can do:
It should be a no brainer to provide shelters to those experiencing homelessness and helping the most vulnerable, but this is San Francisco.
Obstructionist Supervisors and corrupt special interests will try to block or water down this proposal. They will claim that permanent housing should be the only solution. That is not realistic, and what got us to where we are today. We must also expand permanent housing options, but we should utilize every option available to end the homelessness crisis as soon as possible.
GrowSF supports Supervisor Mandelman's "A Place for All" legislation. Please use our tools below to let our officials know that you do too.
1. Sign the petition
Sign our petition to get updated with what's going on with "A Place for All" and ways you can get involved.
2. Send an email to our officials
Emails matter. They are direct and personal. We make it easy: these links will open a prefilled email. You can view it, edit it, and then hit send when ready.
Email your Representatives!
Make your voice heard, it matters.
Make the change happen here!
3. Call in to give public comment
Public Safety and Neighborhood Services Committee
When: Thursday, May 12th. The meeting starts at 10am. It will likely be heard about 30-90 minutes into the meeting.
A Place for All is item #3 on the agenda. You can follow along at SFGovTV, which will show which agenda item they are on.
Click the button below from your phone to call in in a single-tap. Only after item #3 is up, press *3 right away to raise your hand. This will add you to the queue. Once it's your turn to speak, you will hear, "Your line has been unmuted".
Click to call in
Comment instructions and talking points
Haven't given public comment before? Don't worry, it's easy! Introduce yourself and briefly mention why you support A Place for All. Always keep comments positive as much as possible - at the end of the day, we will need the Supervisors' support to pass this!
You will be given 2 minutes to speak. Here's a sample introduction:
Hi, my name is Mike and I live in the Inner Sunset. I'm calling in support of A Place for All because I believe it will finally give us a path to ending street homelessness.
Then choose a couple of these talking points:
Temporary shelter provides an extremely valuable rung on the ladder out of homelessness. It offers people a place to sleep and opportunity to connect them to services at less expense than permanent housing.
The waitlist for temporary shelter before the pandemic was continuously thousands of people long. No matter what anyone says, this shows that people in need want temporary shelters and this plan would deliver on that.
We shouldn't rely on inflexible waitlists until after we deliver shelter for all. Otherwise, people are forced to spend years waiting their turn on the streets, so long that they leave or the city can't locate them. This is cruel and unfair.
It will be valuable for the Board and the public to consider the full plan once it exists. We don't need to debate details like funding until we have a plan to fund.
It's important to keep this plan focused on cost-effective shelter, so that we can actually achieve the goal of ending street homelessness and offer people shelter instead of forcing them to sleep on the street.
Construction costs per bed for temporary shelter are under 10% of the cost of permanent housing. Someone would have to stay in the most expensive shelter bed for almost a decade before it would become more cost effective to place them in the cheapest permanent supportive housing unit.
If you have a personal story you can tell about someone experiencing homelessness who would have been helped by having a place to sleep besides the streets - please tell it! Personal stories are the most powerful, but totally optional.
Who supports "A Place for All"?
Supporters:
Supervisor Stefani (D2)
Supervisor Mar (D4)
Supervisor Haney (D6)
Supervisor Melgar (D7)
Supervisor Mandelman (D8)
Endorsements:
Union Square Alliance
San Francisco Marin Medical Society
Golden Gate Restaurant Association (GGRA)
Castro Merchants
Castro Community Benefit District (CBD)
Corbett Heights Neighbors
Dolores Heights Improvement Club
Hayes Valley Neighborhood Association
Our answers to objections
"Shouldn't we just build Permanent Supportive Housing?"
GrowSF believes that we must also expand permanent housing options, but these options are costly and difficult to build, and they should not be our only answer. As the SF Examiner wrote in its endorsement of the legislation, "[t]rying to solve the urgent homelessness crisis on our streets with permanent housing only is like trying to bail out the ocean with a teaspoon."
"Has it worked elsewhere?"
Investing in temporary shelter as a cost-efficient way to get people off of the streets has worked in other cities. For example, New York City has a "right to shelter" imposed by the courts. This has been extremely effective at keeping people sheltered in New York. 95% of unhoused people in NYC have shelter of some kind, while in SF, fully 1/3 of unhoused people are forced to live without any shelter at all.
While A Place for All will not be as strict as the right to shelter in New York, it will be a significant step closer to ending unsheltered homelessness.
Convinced? See how you can support A Place for All
Questions?
Check out the "A Place for All" press release, fact sheet, and full text.
You can also reach out to us at contact@growsf.org